(By Arogyam Ayurvedm)
Panchkarma
It is a method of cleansing the body of all the unwanted waste after lubricating it. Panchkarma are five in number, hence the terms pancha (five)- Karma (Procedures). Panchkarma treatment is unique in the sense that it includes preventive, curative and promotive actions for various diseases
1. SNEHAN KARMA
It is a procedure in which oily substances are used to oleate body which brings unctuousness, liquefaction, softness and moistness
to body.
BENEFITS:
relaxes tensile muscles
Counteracts the aging process
Nourishes various body components.
Helps in inducing sound sleep
Strengthens the body
Quality of skin and eye sights etc improves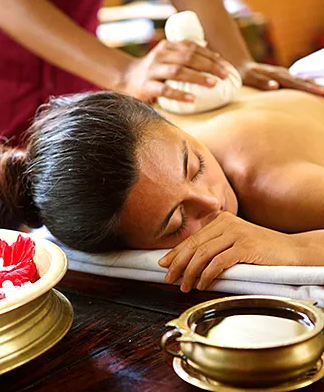 2. SWEDANA KARMA:
The therapy in which perspiration is produced and these reduces stiffness, heaviness and cold.
BENEFITS:
Improves metabolism and respiration.
Eliminates toxins and relax muscles
Increase joint mobilization
Softness the skin
Reduces stress & fatigue
3. SARVANG POTLI SWEDAN:
It is a therapy done using heated herbal medicine in muslin cloth which are used to nourish and have anti inflammatory effects on body.
BENEFITS:
Increases peripheral blood supply and relieves body ache.
Strengthens muscle and skin
Reduces joint inflammation
Soothens aggravated vata dosha.